At Kinderkrippe Seepfärdli, we look after children in four mixed-age groups ranging from three months up until they are ready to start kindergarten. The minimum weekly attendance is two full days. We also offer the option for care on Fridays only.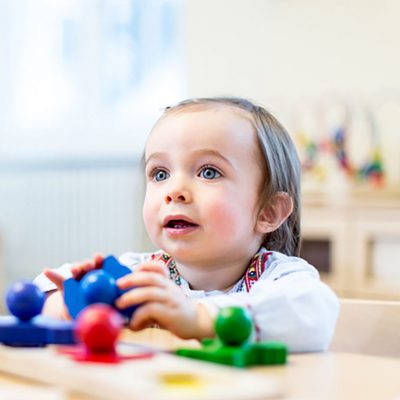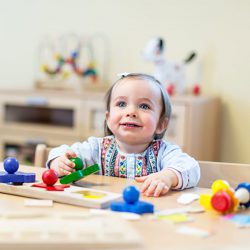 The daycare remains closed between Christmas and New Year and also closes for two weeks in the summer.
All other holiday closings will be announced well in advance. On the day preceding official holidays, Seepfärdli Daycare closes at 4/5 pm (after announcement).
We understand that the settling-in period is an important time for you and your child to adapt to the new environment. With this in mind, you have the option to enrol your child for half days rather than full days for the first three months to ease this transition.
Our daycare centre spans two bright and welcoming floors that have been lovingly designed to cater to the needs of the children.
Our daycare centre is open Monday to Friday from 7:00 a.m. to 6:30 p.m.
7:00 – 9:00 a.m.: Time for us to welcome the children.
11:15 a.m.: Afternoon-only children arrive (option only available as an added extra).
2:00 p.m.: Morning-only children leave (option only available as an added extra).
4:30 – 6:30 p.m.: Winding down gently as the children go home.

There's nothing like the forest to really capture a child's imagination. It's the perfect place for them to connect with nature up close, with plenty of opportunities for exploration, physical activity, and all kinds of sensory experiences. Down in the woods, children come across sights and sounds that they rarely encounter in the city: rustling leaves, dancing foliage, busy ants, and gentle birdsong. We nurture the children's connection to nature by allowing them to experience the diversity of the seasons and encouraging them to discover the wonders of the natural world.
Whoever said yoga was only for adults? Here at Kinderkrippe Seepfärdli, our children love to practise in a playful environment.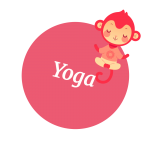 This is the perfect opportunity to promote body awareness, self-perception, concentration and empathy. Your child will experience yoga as a fun and calming activity that supports their physical and mental development.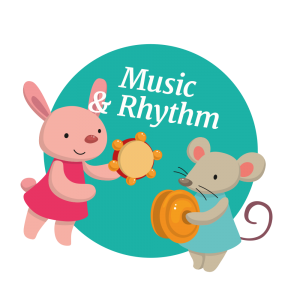 Holistic development through rhythm and music
Music and rhythmic activities offer a wide range of benefits for children: they bring joy, stimulate emotions, promote social interaction, enhance language capabilities, strengthen motor skills, and even open new doors to the worlds of nature and technology. Rhythmic activities and music are closely intertwined, promoting holistic learning in which all of the senses interact. Children have the opportunity to listen to music and use simple instruments such as drums, xylophones and rattles to nurture their own ideas and creations.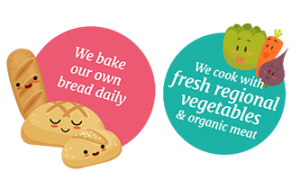 Fresh and local goodness every day
Ensuring a healthy and balanced diet is a top priority for us. We take pride in offering fresh, locally sourced fruits and vegetables, as well as high-quality organic meat from humane farming practices. Our freshly baked bread is a firm favourite with the children, too, and something they look forward to every day. We invite the little ones to join in with preparing meals whenever the schedule allows, making it a fun and educational experience for everyone.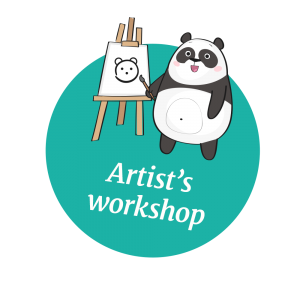 The motto in our art studio is that creativity is all about inventing, experimenting, taking risks, breaking rules, making mistakes, and having fun. Here, your child has the opportunity to explore art with all their senses, experimenting, being creative and expressing themselves freely with a strong emphasis on the creative process. Our aim is to foster artistic curiosity, motor skills and concentration through playful activities.
We are delighted to offer subsidised childcare places that are supported by the city of Zurich. Parental contributions are determined based on their taxable income, assets and family circumstances.
Information on how the parental contribution is calculated can be found here: Elternbeitragsberechnung. Please don't hesitate to contact us if you are interested in a subsidised daycare place at Seepfärdli. You can use the Zurich City contribution calulator to find out whether you are eligible for subsidies and the amount of your parental contribution.